Inventing America: Black History
Inventing America: A chronological selection of Black Americans' impacts in politics, law, medicine, technology, art, and culture         
This post has a timeline with more information and resources to accompany the Black History Month timeline poster you may have seen on campus at Illinois Institute of Technology.
The information was contributed by Professors Maureen Flanagan, Margaret Power, Carly Kocurek, Teresa Moreno, and Marie Hicks of the Illinois Institute of Technology's Humanities Department. Susan Mallgrave, Communications Director for the Humanities Department, created a timeline poster that displays a subset of the events below. (If you are a high school, middle school, or elementary school teacher and you would like to print a copy of the poster for your classroom, feel free.) For Black History Month events at Illinois Tech, look here.
1792: Benjamin Banneker publishes his first almanac. Banneker, a free African American scientist, inventor, and farmer, published his farmer's almanac from 1792 to 1802 and attained international acclaim. A contemporary of Thomas Jefferson, Banneker used his notoriety to advocate for social reforms. He published poetry from Phillis Wheatley and anti-slavery speeches from both British and American abolitionists in the almanac. Find out more at the Benjamin Banneker Historical Park and Museum site, which memorializes Banneker and his achievements.
1845: Frederick Douglass published his autobiography, Narrative of the Life of Frederick Douglass, an American Slave, which became a best seller.  Douglass helped to lead the abolitionist movement.  He also supported women's rights and attended the 1848 Seneca Falls Convention in New York.  He traveled to Ireland and England to promote an end to slavery. Douglass also called for Irish Home Rule. See the text of one of his famous speeches, "What the Fourth of July Means to the Negro."
1849: Harriet Tubman escapes from slavery. Tubman is best known for her work with the Underground Railroad and is credited with rescuing approximately 70 people from
slavery. However, Tubman also helped John Brown recruit men for his infamous raid on Harpers Ferry and, in the years after the U.S. Civil War, she joined the struggle for women's suffrage. She remains the best known conductor of the Underground Railroad. In 2013, President Barack Obama established the Harriet Tubman Underground Railroad National Monument. Read more about the Underground Railroad in The Liberty Line: The Legend of the Underground Railroad by Larry Gara.
1853: Solomon Northrup, a free black man in New York state, publishes his account of being kidnapped and enslaved in the south for 12 years. Read his full book, 12 Years a Slave, online.
1881: Sophia B. Packard and Harriet E. Giles found the Atlanta Baptist Female Seminary, a college for black women in the United States. Today, the school founded by Packard and Giles is known as Spelman College. Spelman is a four-year liberal arts college with highly ranked academic programs. At present over 100 historically black colleges and universities are operating in the U.S. and Spelman is among the best known. Learn more about historically black colleges and universities from the United Negro College Fund.
1891: Dr. Daniel Hale Williams founded Provident Hospital on Chicago's near south side.
Its first location was at 29th Street and Dearborn and moved to a new, larger facility at 36th and Dearborn in 1898. The Hospital trained African-American doctors and nurses who then took up positions in, and helped found, African-American hospitals across the country. Dr. Williams was one of the first surgeons to successfully repair a torn pericardium (the membrane covering the heart). He founded the National Medical Association for African American doctors. Read more on Dr. Williams.
1903: W.E.B. Dubois published the Souls of Black Folks and in 1935 he published Black Reconstruction, which defined Southern reconstruction as an experiment in democracy.  DuBois was a prominent leader of the NAACP, promoted the rights of Africans around the world, and actively opposed lynching.
1904: Mary McLeod Bethune opened the doors to her school for African American girls in Daytona Beach, Florida.  The school grew to become the Bethune-Cookman College.  Bethune was active in various organizations such as the National Association of Colored
Women and the National Council of Negro Women.  During the New Deal, President Roosevelt appointed her Director of the Division of Negro Affairs, making her the first Black woman to head a federal agency. To read what she thought and wrote, see Mary McLeod Bethune, Mary McLeod Bethune: Building a Better World, Essays and Selected Documents, ed. Audrey Thomas McCluskey and Elaine M. Smith. Indiana University Press.
1905: Madam C.J. Walker founds a beauty and cosmetics company catering to black
women. Walker's company provides well-paying jobs for thousands of black women and is so successful that Walker is widely considered the first woman to become a self-made millionaire in the United States. Read more about Madam C.J. Walker and black beauty culture in Hair Raising: Beauty, Culture, and African American Women by Noliwe M. Rooks.
1913: Ida B. Wells-Barnett of Chicago's Bronzeville neighborhood founds the women's Alpha Suffrage Club in Chicago and the Club succeeds in helping elect the first African-American member of the Chicago City Council in 1915. Read more about her life and work in Crusade for Justice: The Autobiography of Ida B. Wells, edited by Alfreda M. Duster. Also see http://chicagowiki.info/bronzeville/ for a wiki written by IIT students in HIST 351 (taught by Professor Flanagan) that focuses on the relationship between IIT and Bronzeville's African-American residents, culture, and life.
1921: Bessie Coleman became first African American woman to earn an international aviation license. She became a "barnstorming" stunt flier flying in the early air shows in the United States where she was known as "Queen Bess." She died in 1926 in a plane accident when she was just 34 years old. Her life and career were brief, but she helped pave the way for other African American aviators. Bessie Coleman drive at Chicago's O'Hare airport is named for her.
1939: Billie Holiday records "Strange Fruit," one of the first national political protest songs of the twentieth century, presaging the civil rights movement of the 1950s and 1960s. Abstractly detailing a lynching, the lyrics were written by poet, composer, educator, and progressive activist Abel Meeropol, a Jewish American from New York who faced his own struggles with racial prejudice. Meeropol performed the song for Holiday at Cafe Society in Greenwich Village, after which she chose to make the song a permanent fixture in her repertoire. Today, the song is remembered as Holiday's greatest selling record and as a rallying cry to formally criminalize the practice of
lynching and to end racially-motivated injustice for all. Listen to her sing it here.
1943: Chicago artist Archibald J. Motley painted "Nightlife," celebrating African American cabaret life in Chicago's Bronzeville Neighborhood. South State Street in Chicago at the time was known as the Stroll for its vibrant array of cabarets, restaurants, and theaters. The
Stroll was the center of Chicago Jazz. Motley's painting captured the Stroll's final years as the Bronzeville neighborhood was changing and its nightlife venues were closing. The painting hangs in the Art Institute of Chicago. A traveling retrospective of his work will be on display at the Chicago Cultural Center sometime later in 2014.
1947: Jackie Robinson breaks the color barrier and desegregates major league baseball; voted MVP the following year.
1951: Henrietta Lacks is treated for advanced cervical cancer at Johns Hopkins hospital in Baltimore, shortly before her death at age 31. Without her knowledge or consent,
her cells are taken and used to create a line of cancer cell products that researchers would go on to use for decades. The majority of cancer research in the second half of the 20th century was done on the "HeLa" cell line cultured from her. 52 years later, Henrietta's family got control over her genome; now researchers must apply for permission to use her cells. Read more in the book The Immortal Life of Henrietta Lacks by Rebecca Skloot.
1954: Brown v. Board of Education holds that it is unconstitutional to racially segregate children in public schools. Thurgood Marshall, Chief Council of the NAACP, successfully argued this case in front of the Supreme Court and he later became the first African American Supreme Court Justice. This Court decision has been recognized as one of the most important of
the 20th century, and its interpretation of the 14th amendment lent support to the growing Civil Rights movement.
Listen to the story of Ruby Bridges, a little girl who–singlehandedly–was made to "integrate" a white school after the decision.  She is pictured at left being escorted to and from school by federal marshals to prevent her being attacked by angry white parents.
Hear more contemporaneous accounts of the civil rights movement from the BBC. Or read and view more from PBS.
1955: James Baldwin publishes Notes of a Native Son. Black, gay, and poor, this iconic American writer said he "hit the jackpot" because his life was so "outrageous" he all
but had to write about it. Through his works, which included The Fire Next Time and Another Country, Baldwin portrayed the depth and diversity within his community and redefined what Americans thought about race in the 1950s and 1960s.
A feature-length documentary, which draws on Baldwin's many TV interviews to tell his story in his own words is available to view online in its entirety from PBS.
You can also listen to Baldwin's lectures and see videos here.
1957: Althea Gibson becomes the first African-American–man or woman–to win
Wimbledon. As a tennis prodigy, Althea helped integrate a notoriously white and class-divided sport. See more in the new documentary, Althea, playing soon.
1966: The Black Panthers are founded in Oakland, CA. For over a decade the Panthers focus on a global antiracist, revolutionary political agenda.
Though much maligned in the mainstream media at the time, the Panthers set up a variety of social equality initiatives, including community healthcare programs for the poor.
Read Alondra Nelson's new book, Body and Soul: The Black Panther Party and the Fight Against Medical Discrimination.
1966: Nichelle Nichols begins her role as Lieutenant Uhura on Star Trek, one of the few roles at the time where a black person, and a black woman, portrayed a non-stereotypical role on a television show targeted at white viewers.  Although Lieutenant
Uhura was in a position of authority on the USS Enterprise, Nichols says that she almost quit the role because she felt she was portraying a glorified secretary. In addition, she received significant amounts of racist hate mail. Martin Luther King, Jr., however, urged her to stay, telling her how important she was as a role model. Years later, Nichols would use her fame to help NASA recruit talented young men and women of all races to work on the Space Program. Uhura's first name, Nyota–which was never used on screen until the 2009 J.J. Abrams film–means "star" in Swahili.
1967: Loving v. Virginia: Mildred and Richard Loving married in the District of Columbia, and then moved to Virginia, where their interracial marriage was considered illegal. At the time, 16 states still had so-called "anti-miscegenation laws." The Loving's fight caused the Supreme Court to rule that laws designed to prohibit interracial marriage were unconstitutional, and led to public recognition and acceptance of interracial families. Read more.
Learn more about the case on the IIT Kent Law School site.
1969: Professor Angela Davis is fired by the University of California, Los Angeles, for
black radicalism and for being a member of the Communist Party. Today she once again teaches at the University of California, in Santa Cruz.
Watch a film about this, or see Angela Davis in The Black Power Mixtape Documentary.
1969: Fred Hampton, the deputy chairman of the Illinois chapter of the Black Panther Party, is murdered in his sleep by the Chicago police.  Under his leadership the Chicago branch set up free breakfast and after school programs for poor Black children. They engineered a truce
between rival street gangs, built relationships with Students for a Democratic Society (SDS) and the Puerto Rican Young Lords, and they supported self-reliance and self-determination for African-Americans. Hampton, like many in the Black Panther Party, was a target of government surveillance and illegal attacks. Read more  on the police assassination of Hampton. You can also read a fuller account in the book The Assassination of Fred Hampton:  How the FBI and Chicago Police Murdered a Black Panther by Jeffrey Haas, one of the attorneys who successfully sued the Chicago police for Hampton's murder.
1972: Barbara Jordan is elected to the U.S. House of Representatives from Texas, the first African American women to represent a southern state. In 1976 she became the first African American woman to deliver a keynote address at the Democratic National Convention, an honor she had again in 1992. Two years later she received the Presidential Medal of Freedom. A firm believer in the best elements of the American dream, and a skilled orator, Jordan made a lasting, positive impact through her political service. See a transcript of an interview with her from 1985.
1982: Michael Jackson's wildly popul
ar Thriller album is released. It goes on to become the top selling solo album of the entire 20th century and redefines pop music for the next generation.
1988: Patricia Era Bath becomes the first African-American woman to receive a patent for medical purposes. Her invention, the Laserphaco Probe, is now used internationally to
treat cataracts and has restored the vision of thousands of people. Her research — which is ongoing — was inspired by disparities in eye health and care that affect poor and black patients who experience higher rates of blindness. Read more about Dr. Bath from MIT's website.
1988: Ok, here's the situation my parents went away on a weeks vacation… Will Smith,
then known as the Fresh Prince, and his MC DJ Jazzy Jeff took home the first ever Grammy in the Rap category. Today, Smith is one of the highest grossing actors in Hollywood.
1992: Dr. Mae Jemison became the first African American female astronaut. In September of that year she was the science mission specialist on STS-47 Spacelab-J,  a cooperative mission between the United States and Japan. She was a
Chicago native who received her B.S degree in chemical engineering from Stanford University and a doctorate in medicine from Cornell University. Before joining NASA, in the 1980s she served as Area Peace Corps Medical Officer for Sierra Leone and Liberia in West Africa. You can listen to a 2012 interview with here here.
2008: Barack Obama becomes the 44th
president and first black president of the US. Read his autobiographical reflections on growing up the son of a Kenyan immigrant father and a white mother from middle America in Dreams from My Father: A Story of Race and Inheritance.
Obama is pictured at the left with Nichelle Nichols (a.k.a. Lieutenant Uhura).
2012: Barack Obama is re-elected president, staking his domestic agenda on affordable healthcare for US citizens. For decades, the US has been one of the few industrialized countries without some form of socialized medical care for its citizens.
2013: Zora Ball, age 7, becomes the youngest person to develop a mobile game app. As a first grader, Ball used the programming language Bootstrap to make the game. The language is intended for 12 to 16 year olds. Ball's game was unveiled at the University of Pittsburgh Bootstrap Expo. Find out more about Ball at Mashable.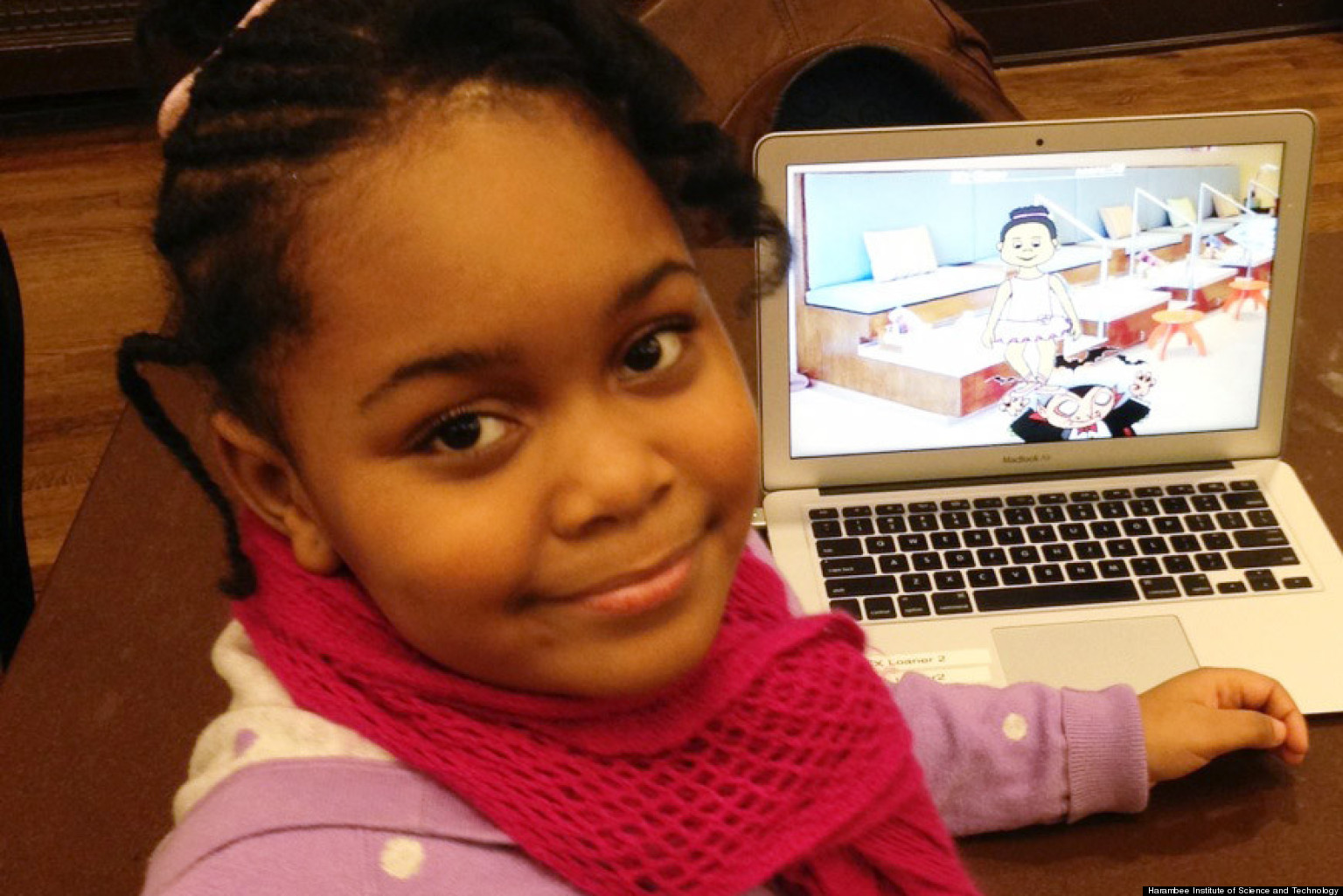 2014: Tyrone Hayes, who in the late 20th c. became one of the first black tenured biology professors, finds himself vindicated by the media after years of harassment by Syngenta Corporation, a chemical manufacturer. Syngenta attacked Hayes for years, trying to discredit and intimidate him, after his studies found that one of their major crop pesticides disrupted the life cycle of amphibians, leading to a worldwide decline in amphibian populations. Despite this, Prof. Hayes continued to study the effects of their pesticide and warn the public about the environmental dangers of using it. Listen to an interview with Prof. Hayes.